Sunday, 18 March 2018
from PhoneDog.com - Latest videos, reviews, articles, news and posts http://ift.tt/2DDdN7s
via
IFTTT
مرسلة بواسطة

قناة العلوم و المعرفة
في 21:15:00

When it comes to handling the TV world's brilliant new high dynamic range (HDR) technology, where you put your LCD TV's backlights matters.
Put them around the edge of the screen like most TVs do, and you're going to struggle to ensure that all that HDR brightness only appears in the parts of the picture where it's supposed to appear.
Put the LEDs right behind the screen and ensure that different zones of those LEDs can output different amounts of light at any given moment, however, and you have the potential for a much more controlled, dynamic, immersive HDR performance.
Cue the Sony Bravia XBR-65X900F or, as it's known in the UK, the Sony KD-65XF9005.
Despite being pretty affordable by modern 65-inch TV standards, this 4K-resolution, HDR-capable TV takes the direct lighting with local dimming approach rather than the edge-lighting approach favored by pretty much all of its similarly priced rivals.
Even better, it partners this great backlight starting point with Sony's most powerful video processing engine, and a significant boost in HDR-friendly brightness compared with the 2017 Sony X900E Series models it replaces.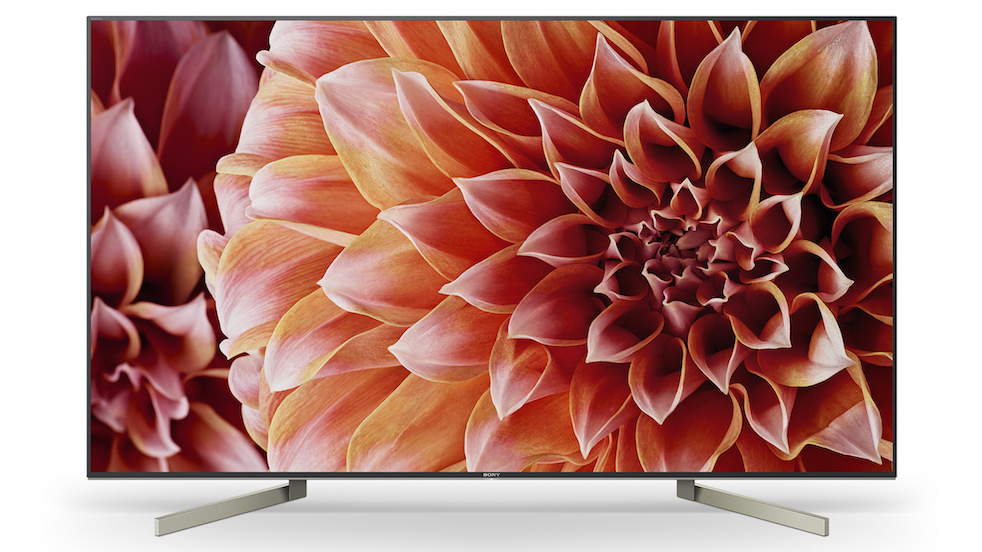 Design
While there are many things to like about the 65X900F, we're not entirely convinced its design is one of them.
The frame around the screen is neat, tidy and trim, in line with current trends. It also benefits from a cute 'brushed metal' effect finish. Oddly, though, Sony has opted to rest this pleasing frame on top of a pair of rather comical, oversized feet.
As well as adding a touch of the absurd to an otherwise serious look, the angle and position of these feet means you'll need to find a fairly wide bit of furniture to rest the TV on.
Design TL;DR: For the most part, the 65XF9005 is a sharp-looking, space saving, robustly built TV. Those feet, though…
Smart TV (Android TV)
Sony is continuing to use the Android TV platform to provide smart features on its mid-range and premium TVs. This means a number of things.
First, having Android TV means you get lots of content. Android TV carries many hundreds of game, information, music and video streaming apps - including the key Netflix, Amazon and YouTube platforms.
In the UK you also get the catch-up TV services for the UK's main terrestrial broadcasters, accessible via a YouView app that also lets you search for shows via an electronic programme guide that can scroll back as well as forwards.
The Android TV system supports built-in Chromecasting, and recently had support for Google's Voice Assistant software added.
This still can't save Android TV from being a typically frustrating smart TV experience, though. For starters, its full-screen menus look cluttered and confusing, and only support minimal amounts of customisation. It also erroneously seems to think in its layout that people will be more interested in playing often third-rate games on their TV than streaming video. And it's horribly prone to needing regular and often pretty sizeable software updates.
It runs sluggishly and the processing power required to run it means the TV's main operating menus can also react rather slowly to your remote control commands.
While the Netflix and Amazon apps both support high dynamic range and 4K streams, the YouTube app on our test sample strangely remains locked in HD SDR.
Finally, despite Android TV being able to learn the sort of apps and content you use the most and recommend personalized content options accordingly, it's less clever than some alternative modern smart TV systems we've used.
Smart TV TL;DR: Android TV continues to feel like a cumbersome and unhelpful smart TV platform, with an interface that feels more a hindrance than a help. Fortunately it's helped out in the UK, at least, by the inclusion of a separate YouView app for easy access to key catch-up TV services.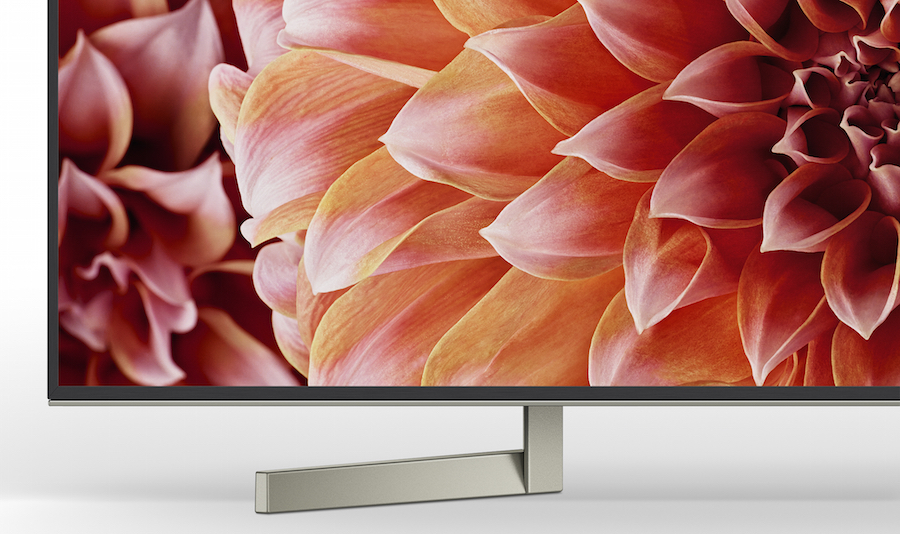 HD/SDR Performance
We're in serious 'wow' territory with the X900F's HD and SDR picture performance.
Sony has fitted the series with its X1 Extreme video processor, rather than the standard X1 processor used in last year's X900E models. A key component of this (40%) more powerful Extreme processor is that it carries a unique twin-database system for adding detail to and removing noise from sub-4K sources.
This worked wonders on all the HD Blu-rays and even DVDs we played on the X900F, making them look far more detailed - genuinely 4K-like in Blu-ray's case - without exaggerating any source noise they might contain. For the second year in a row, there's just no other mainstream TV technology out there today that can upscale HD to 4K as well as Sony's X1 Extreme processor.
The same is true for the X900F's system for converting standard dynamic range (SDR) images to HDR. Similar 'upgrading' is now offered by most other TV brands, but there's a naturalism and subtlety to Sony's HDR upgrade (which introduces both enriched colors and an expanded brightness range) that makes the resulting images uniquely consistent and convincing.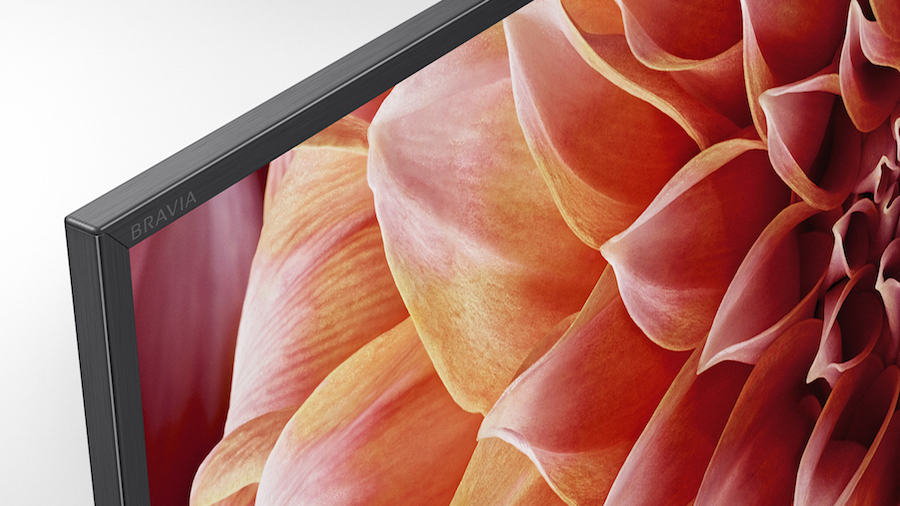 Sony is so confident about its HDR upgrade system, in fact, that it's applied by default to the majority of the TV's picture presets. That said, if you DO turn the HDR upscaling off (by selecting the True Cinema mode), SDR pictures still look beautiful. Colors remain exceptionally rich but also subtle; light still looks beautifully handled; and dark scenes continue to be rich in black level and shadow detail.
In fact, dark scenes in some ways look better than they do in Sony's HDR upgrade mode, since there's no hint of the slight 'blooming' of light around stand-out bright objects that occasionally materialises with the HDR 'upgrading' processing active.
For us, the benefits of the HDR upscaling mean it's pretty much always worth sticking with. But rest assured that if you want to watch SDR images as they were originally designed to be seen, the 65X900F/65XF9005 does a terrific job of that too.
HD/SDR Performance TL;DR: Despite its mid-range price point, the X900F/XF90 delivers a high-end performance with HD and SDR content thanks to state of the art HD-to-4K and SDR-to-HDR conversion processing.
4K/HDR Performance
For the most part, the 65XF9005 does an excellent job with 4K sources: Sony's X1 Extreme processing and Triluminos color management system joins with some outstanding light precision and noise management to get as much detail impact as possible from native 4K pictures.
Underlining the 4K clarity is another picture feature that Sony excels at: motion reproduction. Sony's Motionflow processing has long done a class-leading job of reducing judder and blur in LCD TV playback. But for the X900F/XF90 Sony has taken this a big step further with a new X-Motion Clarity innovation.
This leverages the localised brightness boosting made possible by the TV's direct LED lighting and local dimming to enable the TV to insert black frames into the picture (a technique long considered to give the most natural motion reproduction) without the picture suffering the dramatic brightness loss black frame insertion usually causes.
It's well worth playing around with the Custom motion mode - especially this mode's Clearness setting, which appears to be directly tied to the level of Black Frame Insertion. Setting Clearness to '1' from its default zero position costs you around 100 nits of brightness, but motion undeniably looks more natural. Which in turn makes the sharpness of the TV's 4K pictures look even more impressive.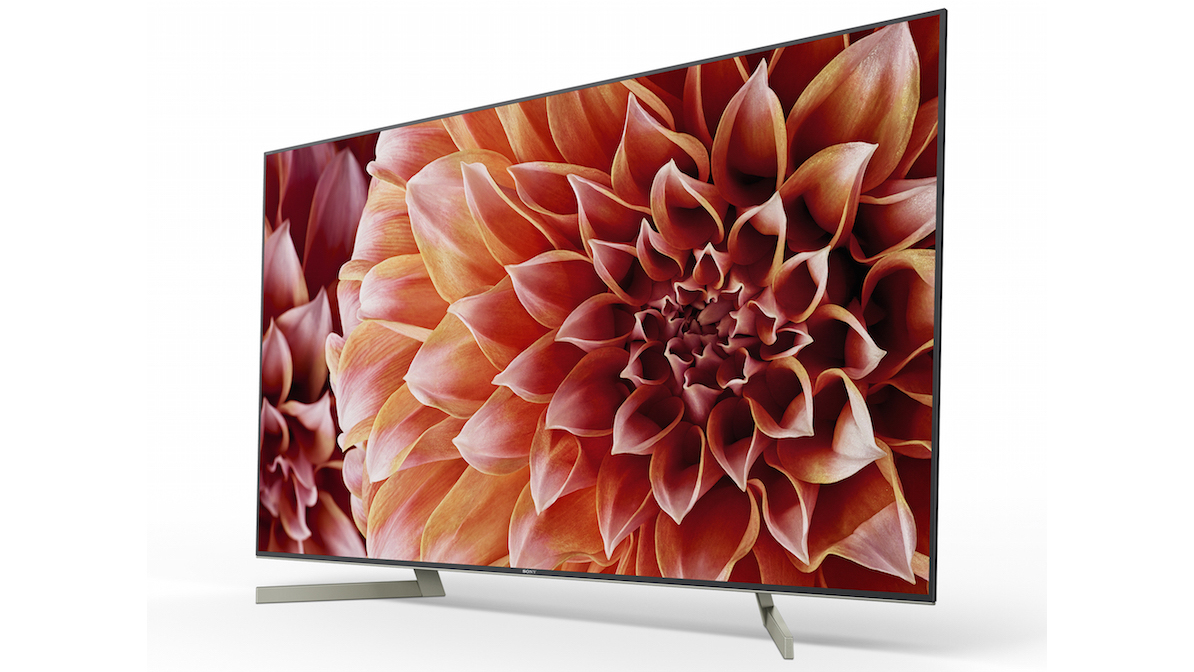 As expected, its use of direct lighting and local dimming is at the heart of the X900F/XF90's success. It enables the TV to produce bright HDR highlights against impressively dark backgrounds with far more punch and far less disruption from unwanted backlight inconsistencies than you'd get with any similarly bright edge-lit LCD alternative.
There's markedly much more punch in the bright, color-rich parts of the TV's HDR images than you got with last year's X900E/XE90 models. Our measurements suggest it achieves around 1000 nits of brightness over a 10% white, HDR window - that's 200 nits more than you got with the X900E/XE90. As a result, it delivers a much more undiluted HDR experience than its predecessor.
When we said earlier that there's 'far less disruption from unwanted backlight inconsistencies than you'd get with any edge-lit LCD alternative', this is not the same as saying there's no unwanted backlight clouding at all: During really extreme HDR shots, such as a candle flickering in a darkened room, or a brightly lit window in an otherwise dark house, you can usually clearly see a gentle circle of extra light as much as three or four inches across stretching out around the bright object.
It's true, too, that if you have to watch the TV from an angle of more than 20 degrees off axis - either horizontally or vertically - then the light 'blooming' around stand-out bright objects becomes much more noticeable.
However, that said, the sort of images that cause blooming backlighting on the 65XF9005/65X900F are very rare in normal viewing conditions. You can also greatly reduce how distracting the blooming is by keeping a little light in your room, rather than going for a full-on black-out.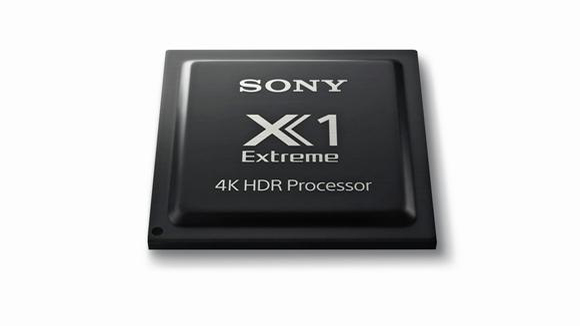 While very high-end (AKA expensive) direct-lit LCD TVs with far more individually controlled LED dimming zones than the X900F/XF90 may suffer with much less obvious backlight 'blooming', it's hard from past experience to imagine other similarly priced rivals being able to deliver similar amounts of HDR punch and brightness with so little backlight clouding. They'll either have to be less bright, or else exhibit much larger areas of backlight inconsistency.
4K/HDR TL;DR: Dazzling colours, deep black levels, great motion handling and impressive brightness levels make the 65XF9005/65X900F a hugely compelling 4K, HDR TV. Extreme contrast HDR content can expose some backlight blooming, but not as much as you'll likely find on similarly priced rivals.
Sound
While the 65XF9005 isn't by any means the best sounding TV I've heard, it's still a pleasant surprise compared with many of Sony's other recent models.
The soundstage spreads a good distance beyond the TV's frame, creating a compelling, detailed, clean and immersive wall of sound. Dialogue sounds more convincingly locked to the screen than it does with many LCD TVs, thanks to the way it seems to sit vertically higher in the mix than usual. Plus there's a really nice, open, uncompressed feel to the mid-range.
The result of all this is that the 65XF9005/65X900F does a pretty handy job of hiding its one weakness: a fairly limited supply of bass.
Sound quality TL;DR: Despite not delivering much bass, the TV's speakers are powerful, dynamic and detailed enough to produce an enjoyable soundstage large enough to keep up with the epic scale of its pictures.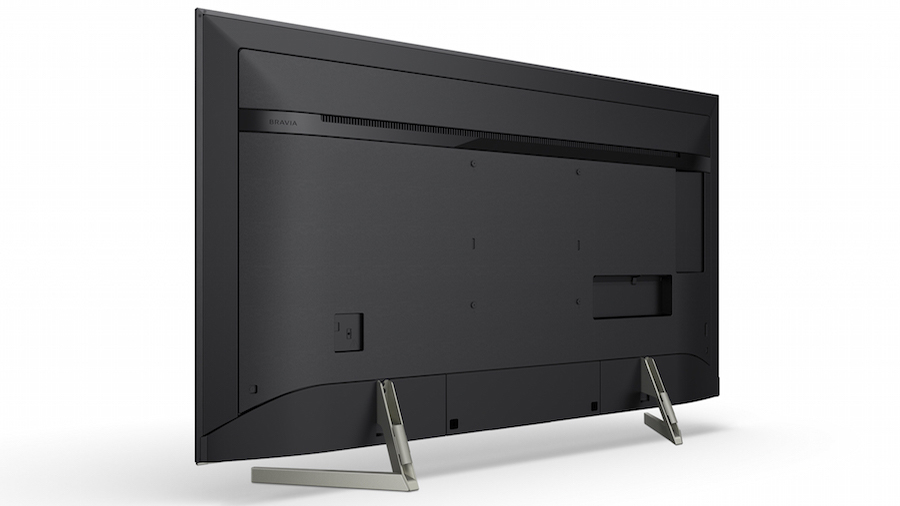 Other panels to ponder
The 65XF9005/65X900F is the first 2018 TV we've seen from any brand, let alone Sony, so we'll have to look back to 2017 for rivals.
The most compelling alternative set would probably be one of LG's 2017 OLED TVs - either the OLED55B7 or OLED55C7. Both use OLED technology to deliver beautiful black levels without backlight blooming. However, you'll only be able to get 55-inch screens without spending much more than the 65-inch 65XF9005/65X900F costs, and the OLED pictures don't look quite as bright as those of the Sony.
From an LCD perspective, the most compelling alternative is Samsung's Q7F QLED. This beautifully designed set costs slightly less than the 65XF9005/65X900F, and delivers a mighty 1500 nits of peak brightness. Its screen enjoys a stunning filter, too, that means the picture loses practically none of its impact even when viewed in a very bright room.
However, delivering so much brightness from an edge LED lighting system does mean that the Q7F can't deliver black levels as deep and free of backlighting clouding issues as Sony's 65XF9005/65X900F can.
Verdict
Short and sweet, the 65XF9005/65X900F is a brilliant mid-priced TV. Every one of the improvements Sony has introduced over and above last year's already excellent X900E series - better processing, more brightness, slightly more backlight dimming zones, improved motion performance - delivers the goods, resulting in picture quality that humbles many more expensive TVs.
Its Android TV system and some generally minor backlight clouding stop it short of perfection, but it's hard to imagine any similarly priced upcoming 65-inch rival getting the better of it.
from TechRadar: Technology reviews http://ift.tt/2CW9MPe
مرسلة بواسطة

قناة العلوم و المعرفة
في 19:29:00

Saturday, 17 March 2018
Just a couple of days after Verizon began pushing Android 8.0 to its Galaxy S8 and S8+, another major US carrier has started updating its own GS8 and GS8+ to Oreo.
T-Mobile is now updating its Galaxy S8 and Galaxy S8+ to Android 8.0 Oreo. The update is around 1.5GB in size and bumps the GS8 to version G950USQU2CRB9, while the GS8+ is being upgraded to version G955USQU2CRB9.
Owners of the T-Mobile-flavored Galaxy S8 and S8+ can expect Oreo upgrades like autofill, picture-in-picture, and notification dots. Samsung is also adding its own new features with Samsung Experience 9.0, like new clock styles for the lock screen and Always On Display, Edge screen improvements, and the addition of Game Launcher in Samsung DeX for a full-screen gaming experience. The security patch level of this update is February 1, 2018.
These updates should continue rolling out over the air in the coming days. T-Mobile Galaxy S8 and S8+ owners can also check for their update manually by going into Settings > Software update > Download updates manually.
from PhoneDog.com - Latest videos, reviews, articles, news and posts http://ift.tt/2tVy0WC
via
IFTTT
مرسلة بواسطة

قناة العلوم و المعرفة
في 12:09:00

Friday, 16 March 2018
We've seen all four major US carriers launch special deals on the Galaxy S9 and S9+, and now Samsung is doing the same thing.
Samsung is offering discounted accessory bundles with the purchase of the Galaxy S9 or Galaxy S9+. Customers can choose either a Power Upgrade Bundle or S9 Ultimate Bundle, which are priced at $49 and $99, respectively.
The Power Upgrade Bundle includes a wireless charging pad, battery pack, and car charger, which is a bundle that's valued at $170. Customers who opt for the S9 Ultimate Bundle will get a wireless charging stand, IconX wireless earbuds, and a Gear VR virtual reality headset, all of which is valued at a total of $400.
These are both pretty great deals, especially when it comes to the S9 Ultimate Bundle. With it, you can give mobile VR a try and see what having truly wireless earbuds is like, all for considerably less that buying the three accessories separately. The good news is that this bundle offer will run through April 6, so you've got plenty of time to decide which bundle is the right one for you.
from PhoneDog.com - Latest videos, reviews, articles, news and posts http://ift.tt/2tU3nkm
via
IFTTT
مرسلة بواسطة

قناة العلوم و المعرفة
في 18:04:00

مرسلة بواسطة

قناة العلوم و المعرفة
في 17:21:00

Last month, Alcatel made MWC headlines when it introduced the Alcatel 1X, the first Android Go smartpone. Now the company has revealed that that phone is coming to the U.S.
The Alcatel 1X will cost under $100 when it lands stateside. However, Alcatel isn't saying exactly when that'll be, only that the phone will launch in "the coming months."
The Alcatel 3V will also arrive in the coming months, but Alcatel isn't saying how much that phone will cost. The 3V is priced at €180 ($221 USD) in Europe, so it should be an affordable model when it lands in the U.S.
As a refresher, the Alcatel 1X features a 5.3-inch 960x480 display with 18:9 aspect ratio, a quad-core MediaTek MT6739 processor, 8MP rear and 5MP front cameras, 1GB of RAM, 16GB of storage, and a microSD card slot. It's powered by a 2,460mAh battery and runs Android Oreo (Go edition).
While the Alcatel 1X isn't going to blow your hair back with high-end specs, it isn't meant to. Android Go phones are affordable phones that have been optimized to run on entry-level hardware, and Google has optimized many of its apps to take up less storage size and save data usage. For customers that want an affordable device that's not super sluggish out of the box, the Alcatel 1X may be worth a look.
Meanwhile, the Alcatel 3V has a 6-inch 2160x1080 display with 18:9 aspect ratio, quad-core MediaTek MT8735A processor, and a dual rear camera setup with 12MP and 2MP sensors. It's also packing a 5MP front camera, 2GB of RAM, 16GB of storage, a microSD card slot, and a 3,000mAh battery. It's running standard Android Oreo.
from PhoneDog.com - Latest videos, reviews, articles, news and posts http://ift.tt/2HHQuff
via
IFTTT
مرسلة بواسطة

قناة العلوم و المعرفة
في 16:09:00

Last year, HTC launched a flagship high-end smartphone that appeared to be worth the money. The reviews were generally positive, especially when it came time to point out how eye-catching the handset was thanks to those striking color choices. But, as has been the case with a lot of HTC-branded smartphones, the U11 faded out of the lime light pretty quickly.
Here one day, gone the next.
This happens to a lot of phones, of course. A lot of phones see the light of day every year, and there's only so much room in the news cycle for so many. Samsung's Galaxy S9 will rake in most of the attention throughout the beginning of this year, but even it, too, will eventually just slip out of the news cycle.
Except when it comes to comparisons. The Galaxy S9 is one of those smartphones that is so good that it will inevitably be compared to all future handsets launched this year, both from Android manufacturers and the inevitable iPhone X successor that arrives later this year.
But, just like last year, and the year before that, HTC is going to try and win over a few new potential customers, and hopefully keep the loyalists around for another extended stretch of time. That handset looks to be the U12+, which was leaked out not too long ago. It has all of the specifications that we'd expect in 2018 from a high-end flagship, including the powerful processor, the big display and minimal bezels, and more cameras than we probably need.
The image that leaked out recently shows off the back and front of the rumored handset, but the overall quality of the image isn't great. We can see all of the things mentioned above: Two cameras on the back, the fingerprint sensor, the pair of cameras on the front, and the minimized bezels. But the handset itself isn't that appealing to me. Especially that camera system on the back. I'm not a fan of that aesthetic at all. The silver stands out, and not in a good way.
But, like I said the quality of the image isn't great and maybe whatever color options HTC has in store for us this year can make that silver pop-out less unappealing.
The leak of the U12+'s specs and design got me wondering early this morning if this is going to be the handset that catapults HTC to the top of the heap again. There is a lot of competition out there, and HTC has a hard road ahead of it. And now I'm wondering what, exactly, HTC might be able to do to sway you over to their brand this year.
What, if anything, do you think HTC could do in 2018 --whether with their first high-end flagship phone of the year or some other device later on-- to convince you to either switch to an HTC smartphone, or stick with them for a little longer? Or have you completely moved on from the HTC brand? Let me know!
from PhoneDog.com - Latest videos, reviews, articles, news and posts http://ift.tt/2FNtT0b
via
IFTTT
مرسلة بواسطة

قناة العلوم و المعرفة
في 13:09:00

It was only recently that the Samsung Galaxy S8 began receiving its Android 8.0 update, but now another Samsung flagship is beginning to get its Oreo treat.
The Samsung Galaxy Note 8 is now starting to receive its Android 8.0 Oreo update. The update is now rolling out to Note 8 models in France, bumping users to version N950FXXU3CRC1 and giving them the March 2018 Android security patches.
Unfortunately, there's no word yet on when this update will begin making its way to other regions. It is good to finally see Oreo hitting the Note 8 somewhere in the world, though, because it means that Samsung is largely done working on the update and so it may be close to release in other regions, too.
Stay tuned and we'll let you know when the Note 8's Oreo update begins hitting other parts of the globe.
from PhoneDog.com - Latest videos, reviews, articles, news and posts http://ift.tt/2FHoTOy
via
IFTTT
مرسلة بواسطة

قناة العلوم و المعرفة
في 13:09:00

Back to top ↑
Popular Posts

Category

Pages